Caroline Roux in conversation with Carme Pinós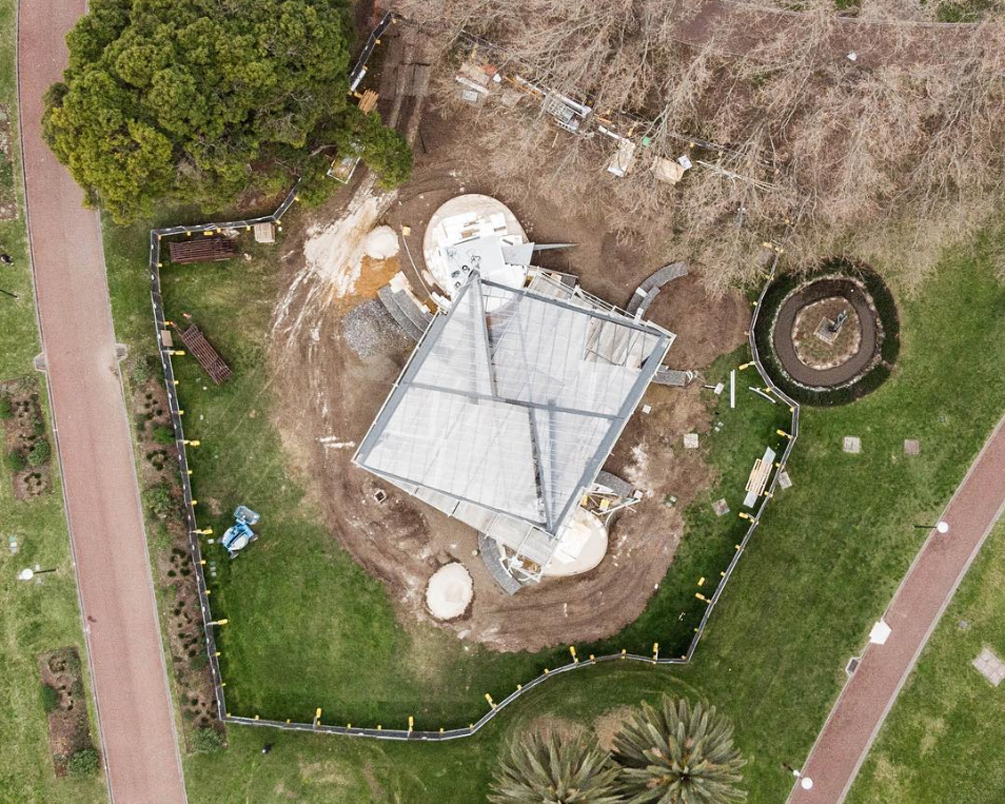 Words: Caroline Roux
Each October, an intriguing new work of architecture appears in Melbourne's Queen Victoria Gardens. It is the MPavilion, a project run by the Naomi Milgrom Foundation, whose objectives are many. One is legacy: after its spring-summer sojourn, the pavilion will be found a permanent public home in the city. It also marks the beginning of a new architectural conversation in Australia. Previous collaborators have been the Australian Sean Godsell; Amanda Levete, one of the UK's leading contemporary architects; Bijoy Jain whose craft-oriented studio outside of Mumbai has stonemasons and carpenter on the payroll; and Rem Koolhaas and David Gianotten of the Dutch firm OMA, famed for its research and radical solutions. Most critically, the pavilion positions architecture as a driver of social interaction, spontaneity, communication and pleasure, and itself becomes a focal point for discussion and debate.
There could, then, be no better candidate for this year's commission than Carme Pinós of Barcelona's Estudio Carme Pinós (a commission that will make her the first Spanish female architect to deliver a piece of public architecture in Australia). Carme is a confirmed humanist, whose work pivots on its social value, and its sympathy with nature and the civic realm. The recent period of spectacular architecture is now past, she believes. "This is a different time," she says, "a time of a free and flexible architecture when we need to develop a new language. In the case of the pavilion, it's not a piece of art, it's about making something for the citizens of Melbourne to use, whenever and however they wish to." Naomi Milgrom agrees. "Carme places human experience and environment at the very heart of her practice," she says.
Carme's pavilion promises to be a modest affair, in a limited palette of materials: wood, steel and polycarbonate. Two gently angled intersecting planes balance delicately on mounds in the park's landscape, while sunlight falls through these latticed roofs to create geometric shadow play inside the space. As the sun patterns change throughout the day, the building functions much like a sundial, consolidating its relationship with natural phenomena.
Inside, there is seating and shade. Carme has also created a new stool—three pieces of MDF that can be slotted together in seconds, then demounted for easy storage—which can be used when required. Refusing to be restricted to one scale of practice, Carme loves to turn her hand to the creation of furniture, as much as to a twenty-nine-storey tower, such as Cube II in Guadalajara, Mexico. "I love any form of design. I learned pattern-cutting at one time," she says. In fact, it was an exhibition about the twentieth-century Spanish fashion designer Balenciaga at the Victoria and Albert Museum in London that ultimately sealed the relationship between Carme and Naomi, who visited it together after their initial meeting in the British capital. "We discovered we shared a love of fashion—it is of course Naomi's business," says Carme. "But it also allowed our conversation to dig deeper into issues of creativity and experience."
Carme began her architectural studies in Barcelona in 1972, at the age of eighteen. "There were 200 students on my course, and only four were women," she says. Carme went on to work with her personal partner, Enric Miralles, but set up on her own when that relationship ended in 1991. Rest assured that, along with the social imperatives of design, the importance of landscape, and the relationship between fashion and architecture, the role of women in architecture today will also be given some serious consideration in the series of talks and symposia which will coincide with the pavilion's presence in the park.
Caroline Roux (R) is a London-based arts writer and a regular contributor to The Financial Times, Wallpaper* and Telegraph Luxury, where she is the architecture expert. Carme Pinós (L) is the architect of MPavilion 2018 and founder of the award-winning Barcelona-based architecture studio, Estudio Carme Pinós.