Naomi Milgrom AO celebrated for her design achievements with Honorary Fellow from DIA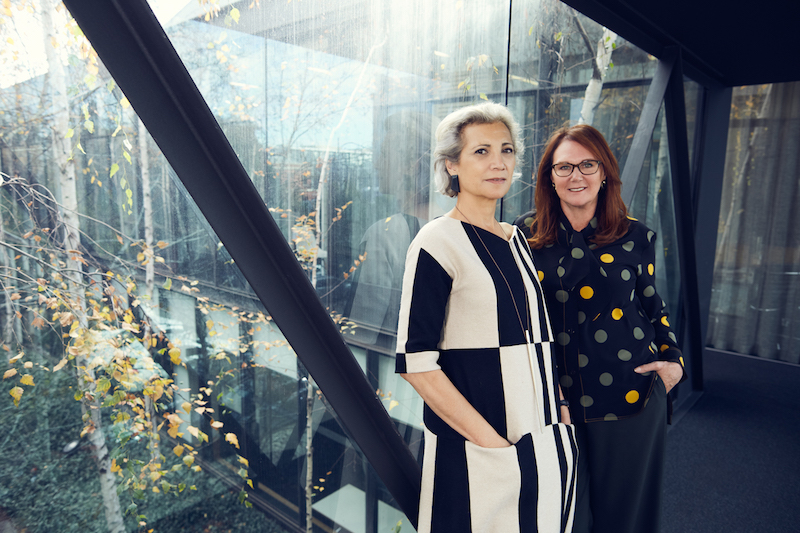 Left to right: MPavilion 2018's architect Carme Pinós of Estudio Carme Pinós with Naomi Milgrom AO. Image credit: Justin Ridler
It was announced last week that Naomi Milgrom AO, founder of the Naomi Milgrom Foundation and patron of MPavilion, will be recognised for her achievements with an Honorary Fellowship from the Design Institute of Australia (DIA), as part of Melbourne Design Week. As MDW coincided with International Women's Day (Sunday 8 March), we asked Naomi for her thoughts on the theme of IWD 2020—'Each for Equal'—and how it manifests in the Foundation's work. 
Naomi Milgrom AO: We are living in an incredible time for women, moving beyond the usual voices and expected formulas for leadership. 
Today, things happen much faster than ever before—and have a greater impact on our families, communities and countries. To stay in step, we need to be smarter about how we keep all voices at the table. A big part of this is actively making and holding space for the ideas and perspectives of people who have traditionally been given less power to lead and influence.  
At MPavilion, we've always curated in a way that ensures the space belongs very much to the community, with a particular emphasis on featuring women from a broad scope of backgrounds and perspectives. 'Collective Creativity' has always taken our work to another level, and keeping women at the centre of this process has been critical to its success. I'm invested in this type of approach because I think it is the only fair and viable model for the future—enabling us to harvest great outcomes for everyone, in many different forms.
One of the great privileges of initiating the Naomi Milgrom Foundation has been providing platforms for many incredible women to share their talents and advance their causes. Since the Foundation launched MPavilion in 2014, we've made it a priority to have women lead the majority of our programming. In that first year, Deborah Cheetham was commissioned to compose a special Acknowledgement of Country song, forming part of a longer, ongoing composition. 
So far, two of the MPavilions themselves have been designed by visionary women—British architect Amanda Levete in 2015, and Spanish architect Carme Pinós in 2018. Across the six seasons of MPavilion, we've also supported and promoted many local, female-empowering organisations such as Parlour, First Nations Female Fellowship, Merchant Road and Community Hubs. 
For the Foundation's annual Living Cities Forum, we've engaged global innovators and leaders in design, including Mabel O. Wilson, Rachaporn Choochuey, Jane Hall, Audrey Thomas-Hayes, Marisa Yiu and Mimi Zeiger. 
Since the Foundation's genesis, we've made it a priority to have women at the helm. Creating space for people from all life experiences means new kinds of leaders can emerge and take the reins, and making deliberate choices to feature and celebrate women helps us all make stronger, more meaningful progress, together.
The Naomi Milgrom Foundation extends congratulations to all of the other Design Institute of Australia's Hall of Fame inductees: Prue Acton OBE; Robert Backhouse FDIA; Dorothy Erickson; Alison Forbes; Robert Geddes FDIA; Jefa Greenaway; and Jenny Grigg. 
More news about the Melbourne Design Week celebrations can be read here.