Q&A: Hattie Molloy and Nic Dowse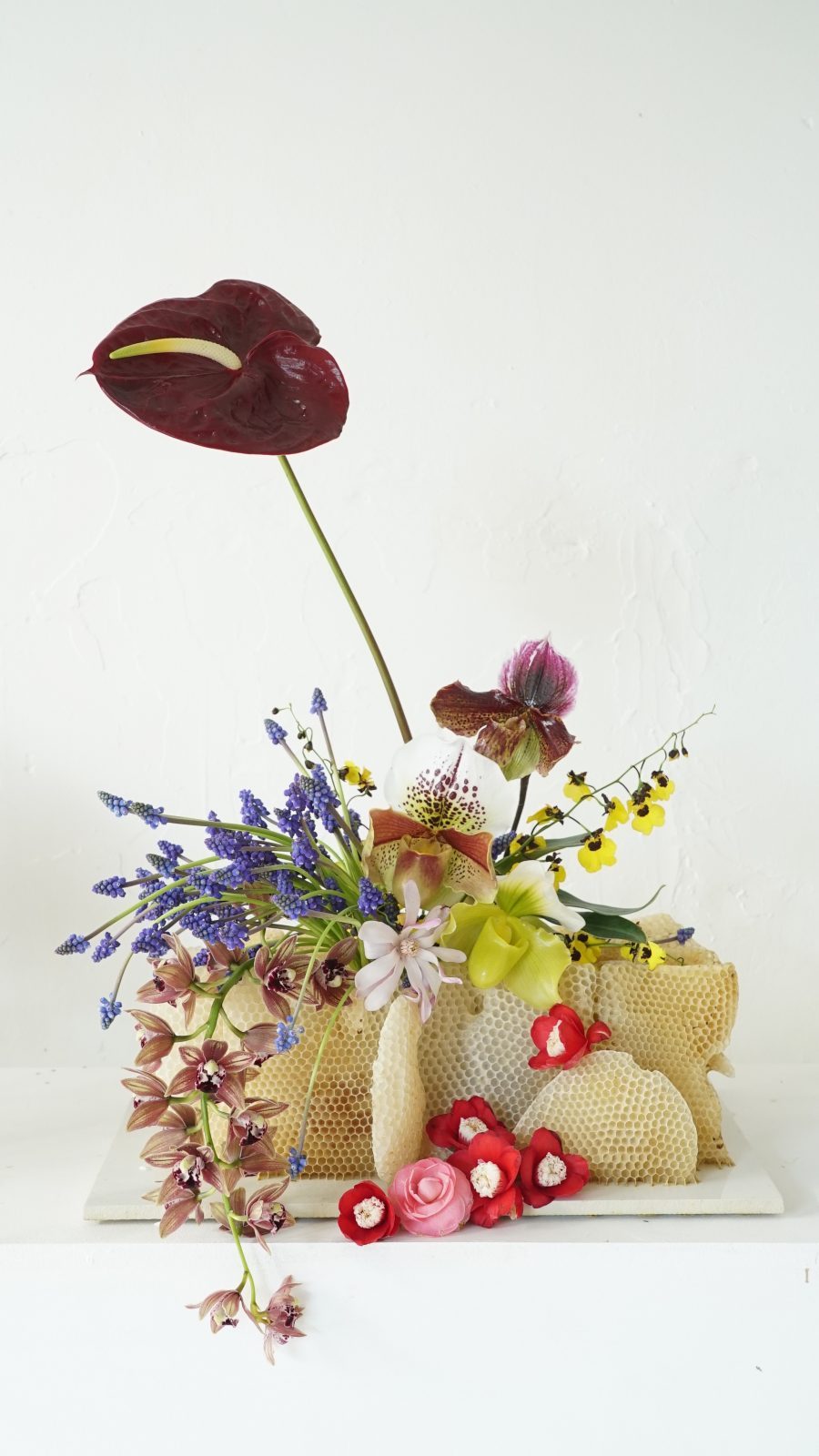 When florist Hattie Molloy and urban beekeeper Nic Dowse of Honey Fingers decided to collaborate, botanical magic was inevitable. Now, their most recent project Botanical landscape + honeycomb vessels is not just an eye-delighting installation gracing MPavilion, but a kind of mini ecosystem.
We had a chat with the duo to find out more about their dynamic, their practices, and the passion for the environment that propels them to do the work they do.
MPavilion: A florist meets a beekeeper – sounds like the start of a joke, or a rom-com. How did the two of you come to collaborate with each other? 
Hattie & Nic: How about a florist meets a beekeeper at a ceramicist's birthday party in Chinatown? I think ceramicist Claudia Lau introduced us – Claudia had worked with both of us and sat us next to each other at her birthday table. We had been watching each other's work for a while and it made sense that a florist and a beekeeper should collab: so the florist asked the beekeeper if he wanted to collaborate on the first Honeycomb Vessel. We displayed it for the first time at the HATTIE studio opening on Johnston St in early 2018.
MPavilion: Tell us more about the evolution of this project. How did it develop?
Hattie & Nic: The nature of both of our mediums – flowers and bees – is one of seasons, growth, decay, renewal and all that is ephemeral. We displayed Honeycomb Vessel 1.0 a couple of times and when the opportunity arose to work at MPavilion we decided to scale the colab up. Hattie had been developing the botanical landscapes concept in her Johnston St shopfront – big mounds of black or red soil, that sprouted grass seedlings over the days and weeks of installation, with highlighted features such as seasonal, giant pumpkins or plinths displaying her beautiful floral arrangements. It was like an experimental laboratory more than a shopfront. So when we started developing the MPavilion installation we decided that, like the seasons and the growing grass in her shop landscapes, we should grow the Honeycomb Vessel again into something new – another season of collaboration with the bees – to create the Honeycomb Vessel 2.0 on display at MPavilion. We literally gave the sculpture back to bees and they built another layer of comb on it (if you look closely you can see the old and new honeycomb). We imagined how wonderful it would be to give visitors the opportunity to be able to walk into one of Hattie's landscapes and experience the stories embedded in it – and to see live bees too. An Observation Hive is a way visitors can see bees on honeycomb quite safely. And this is the first iteration of Observation Hive – this project, like to Honeycomb Vessel, will always be a work in progress.
On a reflective note, since our initial discussions of the project our country has experienced the Great Fires, and so many of our friends and family and colleagues have been affected. So many landscapes have been charred. So many animals have suffered. 
Hattie has reconsidered the design and materials now to reflect the fires on our landscapes – a colour shift to black and use of non-traditional florist mediums such as fungi – that represent both decay and growth after such a tragedy. We hope that as people experience the landscape created they are provoked to reflect on the climate crisis and its impact on the flora and fauna of our beautiful natural landscapes.
We also note that Invasion Day falls in the middle of the installation. Hattie and Honey Fingers acknowledge that this day is not a day that all First Nations people celebrate and we both support changing the date to a day that is respectful and inclusive of all Australians.
MPavilion: More and more, people are turning their attention to dwindling bee populations. But what role do bees play in ecosystems around the world, exactly?
Hattie & Nic: Honeybees have become sentinel species for humans – as honeybee health and populations decline, so too does the health and sustainability of our own food supply, food webs and ecological systems. There is the often cited rule of about one third of the food we eat requiring pollination by insects like honeybees – but the issue is bigger than that. We are connected to the natural world in complex ways and, as we have enjoyed a symbiosis with honeybees for millenia, the decline of honeybee populations has become one of many warnings we desperately need to pay attention to. By understanding why the industrialisation of beekeeping and globalised food supply chains have negatively impacted bees, we can understand how these issues affect not just humanity– but also our climate, environment, and sustainable food production for the generations to come.
It is also important to note that Australia has some of the healthiest bee populations in the world – we currently do not have reported cases of the destructive varroa mite in managed hives. We are the only continent on earth (besides Antarctica) to be varroa free. We do not have so-called Colony Collapse Disorder (CCD). These are things to celebrate and there are lessons to be learned here. Important lessons. And we need to work hard to defend this special status.
Australia is experiencing the last continental-scale, golden age of beekeeping on earth. It is both a beautiful and profoundly sad status to hold.
MPavilion: It's been delightful to watch Botanical landscape + honeycomb vessels in action at MPavilion, and will be a real thrill to witness its conclusion when the bees are released on Thursday 23 January. But we've got one critical question – how do the bees know how to fly home?
Hattie & Nic: This is the technical side of the display and all the preparation happens behind the scenes. Observation hives are often used by beekeepers to help educate the public about bees and beekeeping. Usually the observation is taken from the original hive site to the temporary location and returned the same day. The bees are usually kept inside the observation hive.
We are kind of doing a similar thing: borrowing the bees for a day (for about 8 hours). But we are only borrowing the smartest, strongest and most savvy bees: the forager bees (to find out how we have ensured that forager bees are the only bees in the hive you will have to read my forthcoming Instagram posts – it's a little bit technical). Forager bees are the most wise and experienced bees that are used to flying several kilometers from the hive – research on the exact number of kilometers vary but beekeepers use between a 3-5km foraging range as a rule of thumb. Beekeepers know that if you move a hive a short distance, the forager bees usually return to the original site. In fact, one of the beekeeping rules-of-thumb is that hive moves have to be at least 5km from the original site in order to stop the foragers returning to that original location. Forager bees know where their hive is located in relation to the sun and local landmarks. The 'mother' hive for the foragers on display is only about 2km from MPavilion and we believe that, after 'borrowing' them for 8 hours, the majority of the bees will be keen to get out of the hive and get back to work – and get home. Any bees that remain in the hive will be carefully collected by us and driven back to the original hive location – we love our bees and will make sure no-one is left behind.
Join us for the HattieXHoneyFingers: Botanical Landscape + Honeycomb Vessels installation, onsite from Thursday 23 January to Monday 27 January. The bee releasing ceremony will take place on Thursday 23 January, 6–9pm.
MPavilion 2019 is open in the Queen Victoria Gardens from 14 November 2019 to 22 March 2020. MPavilion is an initiative of the Naomi Milgrom Foundation in partnership with City of Melbourne, Victorian Government through Creative Victoria and Development Victoria, ANZ, and RACV.