Q&A with fashion designer Vincent Li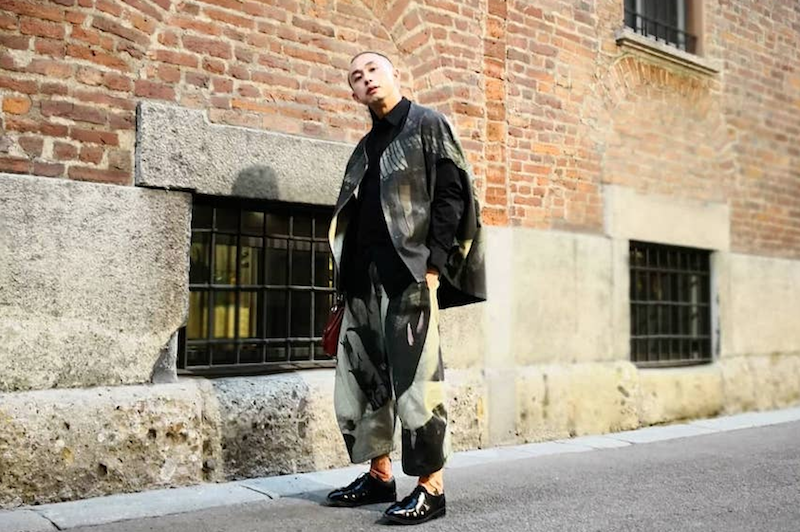 Vincent Li creates genderless garments that are as inspired by art, music, dance and philosophy as they are informed by the work of his fashion heroes. In the lead up to Vincent's feature in Fashion Unites: Celebrating Fashion Diversity at MPavilion on Sunday 22 March, we asked the Shanghai-born, Melbourne-and-Hong Kong-trained designer about the stories, dreams and collaborations that drive his work.
MPavilion: What qualities or features most excite you in a garment, Vincent?
Vincent Li: Innovative ideas in the design, construction, textile and finishing; artisanal craftsmanship, and clever mixture of the texture.

MPavilion: You've said before that Dries Van Noten, Yohji Yamamoto and Raf Simons are among the fashion designers who inspire you most. Are there any non-fashion designers or artists who directly inspire your work? 
Vincent Li: Musicians, such as Ólafur Arnalds has created a mood for my imagination, and I can feel deeply connected with his works. I imagine the movements, the stories and cinematic visual effects. 
The documentary series, such as The Eve Before Tomorrow, helped me understand the reality of our humanity, and what we face in the future. It is a bit scary, moving, stupid, and sometimes cruel. I am always interested in exploring the world, and learning the psychology of our humanity. It inspires me to tell my side story through the collection.
The photographer Bill Cunningham said that "fashion is the armour to survive the reality of everyday life" and that doing away with it "would be like doing away with civilisation". It is also the philosophy of my design. Fashion connects everything that we live in. It is part of us, not just superficial skin. 
There are many more that have and will inspire me. I am a dust in the universe and have so much to learn. With opening our mind, we learn, grow, and be more objective. Hopefully, we do not jump to a conclusion, and look at the things through a different angle. 

MPavilion: It sounds as though you have lived some very different lives before getting seriously into fashion – as a dancer, and an IT programmer. Do you feel the influence of either or both of these worlds in your fashion work?
Vincent Li: Absolutely. Dancing is emotional, and dreamy. IT is logical and practical. It presents both of me and my two extreme sides.  I always start with my design by dreaming the fantasy, getting emotional, and thinking bigger. Then, I balance them with designing the garments that we could wear everyday. Dance taught me artisan, creativity, and discipline. IT trained me in organisation, time management, prioritising, and analytics. 

MPavilion: In the past, you have made work in collaboration with First Nations designers. Can you tell us about this experience, and if it gave you any new insights, awarenesses, or ways of approaching design?
Vincent Li: It is the first time that my design was not entirely inspired from my personal experience, but inspired from my learning experience from the artist – Peter Waples Crowe. We get a bit closer. He invites me into his wonderful heritage and world of friends. I learnt so much from it. I respect more of our roots as Australians. The Dingo is a misunderstood animal in our nation, just like Peter as Indigenous or myself as an immigrant. We want the collection to be inclusive rather than exclusive. It is a celebration of our heritage, our gender, and our choices. 
As the artist – Peter says, "I'm inside the culture because I'm Aboriginal; I'm outside because I'm gay. I'm inside gay culture because I am gay. I'm outside because I'm Aboriginal." Exploring dislocation, indigeneity, popular culture and spirituality, the artist attempts to bring consciousness to the erasure and loss of Aboriginality. Peter Waoles-Crowe has used the "DINGO" as his artistic symbol. "It's seen as a native animal but it isn't afforded the same protective status as other pretty native animals, like Koalas."
By using "MIRRIGANG" (wild dog) as a symbol, the collaborative pair creates a bold entrancing original collection through an A-Line silhouette via a wedge shape. The feelings of struggling with identity, dislocation, and conflicts are conveyed through the collaged textile, digital prints, embroideries, hand-painted artwork, versatility, detachability, and reversible designs in each piece.

MPavilion: Over the course of your fashion career, you've had the chance to work in some very different cities around the world. What would you say are the main differences between practicing in Shanghai, London, Paris, and Melbourne?
Vincent Li: We are different but also the same. The culture is different. Somehow Shanghai and Paris share something similar. London and Melbourne have something in common. Melbourne is the fashion capital of Australia, but spending on fashion is still not on our top list. It reflects back to our daily life. There is a very niche market in Melbourne where people like to be different and confident in what they wear. Black is the colour of Melbourne Fashion. I would say people's fashion in London is quirky, individual, and 'street style'. Paris fashion is artistic, conceptual, and elegant. London and Paris Fashion are both well established, and they are still the places to discover the emerging world talents. People in Shanghai love fashion, and spending on clothing is a major social and leisure activity. The styles in Shanghai change very rapidly because people there get bored very easily. The city is like a sponge and welcomes all things new. I would say that Shanghai is the future.

Vincent's work will feature alongside designs from an array of talented Victorian designers at Fashion Unites: Celebrating Fashion Diversity, on Sunday 22 March, 4pm—5pm. We warmly invite you to join us for the show, which will also be the final event of MPavilion's 2019/2020 season. This event is presented with Multicultural Museums Victoria, in collaboration with Creative Victoria.