Women lead new conversations at MPavilion 2018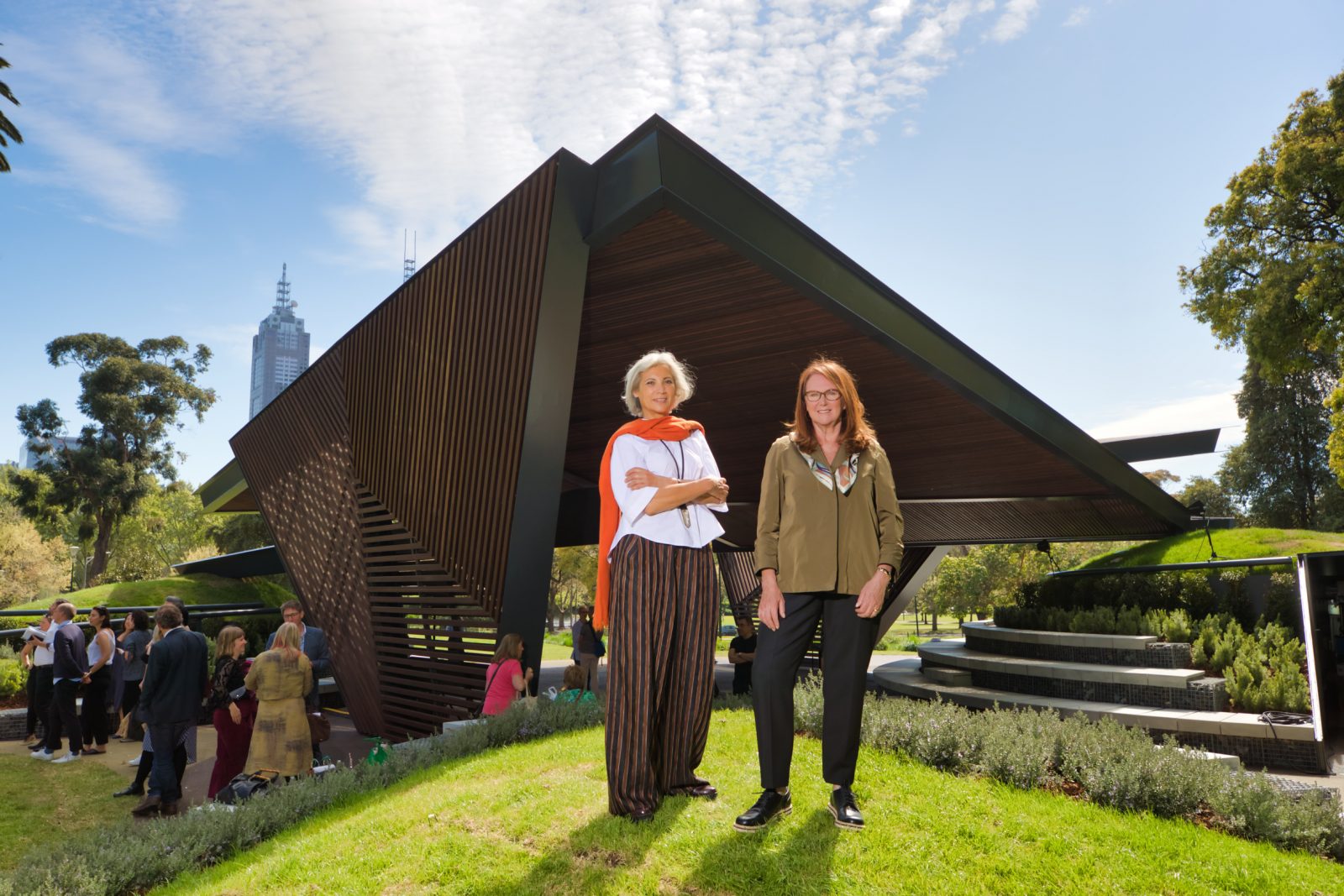 Barcelona-based architect Carme Pinós, our esteemed designer of MPavilion 2018, has inspired a breadth of discussions about design and society led by women during the first month of this season's program. Carme was in Melbourne during our opening week to cut the ribbon on her widely celebrated pavilion and to engage the city in conversations about her internationally influential practice, which focuses on inclusivity and building community through design. This year's program highlights and connects women in leadership roles across disciplines and cultures, including those working design and architecture, the arts, and science and technology.
At MPavilion, Carme spoke with journalist and author Virginia Trioli and Naomi Milgrom AO, chair of the Naomi Milgrom Foundation, which commissions each year's MPavilion, as well as with architect Kirsten Thompson as part of a conversation presented by equity advocacy organisation Parlour. Carme—a recipient of the Berkely-Rupp Architecture Professorship and Prize for contribution to advancing gender equity in the field of architecture—also gave a keynote lecture at the Melbourne School of Design and joined a Melbourne Festival panel about the occupation and use of Indigenous land.
At the opening, Carme and Naomi were joined by architect Leanne Zilka of ZILKA Studio, who worked with Estudio Carme Pinós to realise MPavilion 2018, as well as leading Melbourne architect Clare Cousins; Helen Wellman, director of MPavilion landscape partners Tract Consultants; and Hayley Franklin, senior associate at Sean Godsell Architects, responsible for our inaugural MPavilion in 2014.
The first of our BLAKitecture series of forums exploring Indigenous built design, BLAKitecture: Women's business, brought together lecturer and researcher Carroll Go-Sam, interior designer Francoise Lane, architecture and construction student Laura Brown, and scholar and MPavilion's program consultant Sarah Lynn Rees to consider what it means to be a woman in the Indigenous design space.
Gender in urban design and virtual design is also spotlighted in MTalks and MMeets events happening at MPavilion throughout the season. Virtual morality: Ethics in the design of virtual worlds aims to further the dialogue about marginalisation and inclusivity in the community, while the future of our city-making will be interrogated in events such as HERitage: How women have shaped Melbourne's cultural landscape, 'Leadership and women' with Collectivity Talks, and our own MRelay tag-team talk The future is gender-neutral design. In November, Melbourne Music Week presents two hypotheticals exploring behaviour and language in the music industry.
For more talks, workshops, performances, installations and more, visit our program page. MPavilion 2018 by Carme Pinós of Estudio Carme Pinós is open in the Queen Victoria Gardens until Sunday 3 February 2019.