The bees kneads: Making bread using honeybee starter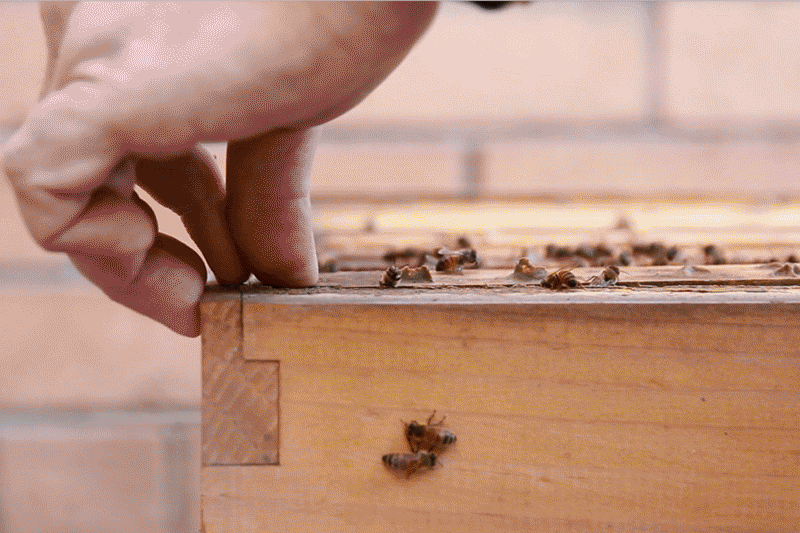 Foodies and bee appreciators unite! Ahead of our fascinating MTALKS event Bee bread: Human bread made using honeybee food technology on Sunday 4 November, urban beekeeper Nic Dowse from Honey Fingers lets us in on what we anthropoids have in common with our buzzy friends. Who knew it would be sourdough?
---
Words: Nic Dowse
Surprise—honeybees and humans use the same food technologies!
When humans have a surplus of fruit we make jam—we stew the fruit to reduce the water content and increase the sugar content, and we store it in an airtight container with a lid. Bees preserve nectar in a similar way: they reduce the water content to below about eighteen percent, increase the sugar content and also store it in an airtight container (a honeycomb cell with a wax cap).
Honey is nectar jam, made by bees.
Everyone knows bees make honey but did you know they also ferment food?
Bees, like humans, use fermentation to control the rate of decay of food. A beehive is warm and humid inside and pollen—a food bees need to raise their young, or brood—would spoil inside a beehive in its raw state. To stabilise this pollen, the bees ferment it. Beekeepers call this product 'bee bread'. Bee bread is pollen that honeybees collect in the field and activate with saliva, gut enzymes, honey, wild yeasts and yeasts found in the hive.
Amazingly, bees use the same fermentation to make 'bee bread' as we use to make a a 'human bread' sourdough starter: a lactic acid ferment!
Join urban beekeeper Nic Dowse from Honey Fingers and Boris Portnoy from All Are Welcome bakery at Bee bread: Human bread made using honeybee food technology as they join special guests Asanti Gerad and Jane Marx from social enterprise Merchant Road to investigate, celebrate and bake with a technique both species use: fermentation.
Watch and learn as traditional Ethiopian bread is made from a fermented starter inoculated inside the All Are Welcome beehive. Share the delicious results and join in the discussion at this intriguing event.