Media Wrap: MPavilion 2019 gains global reach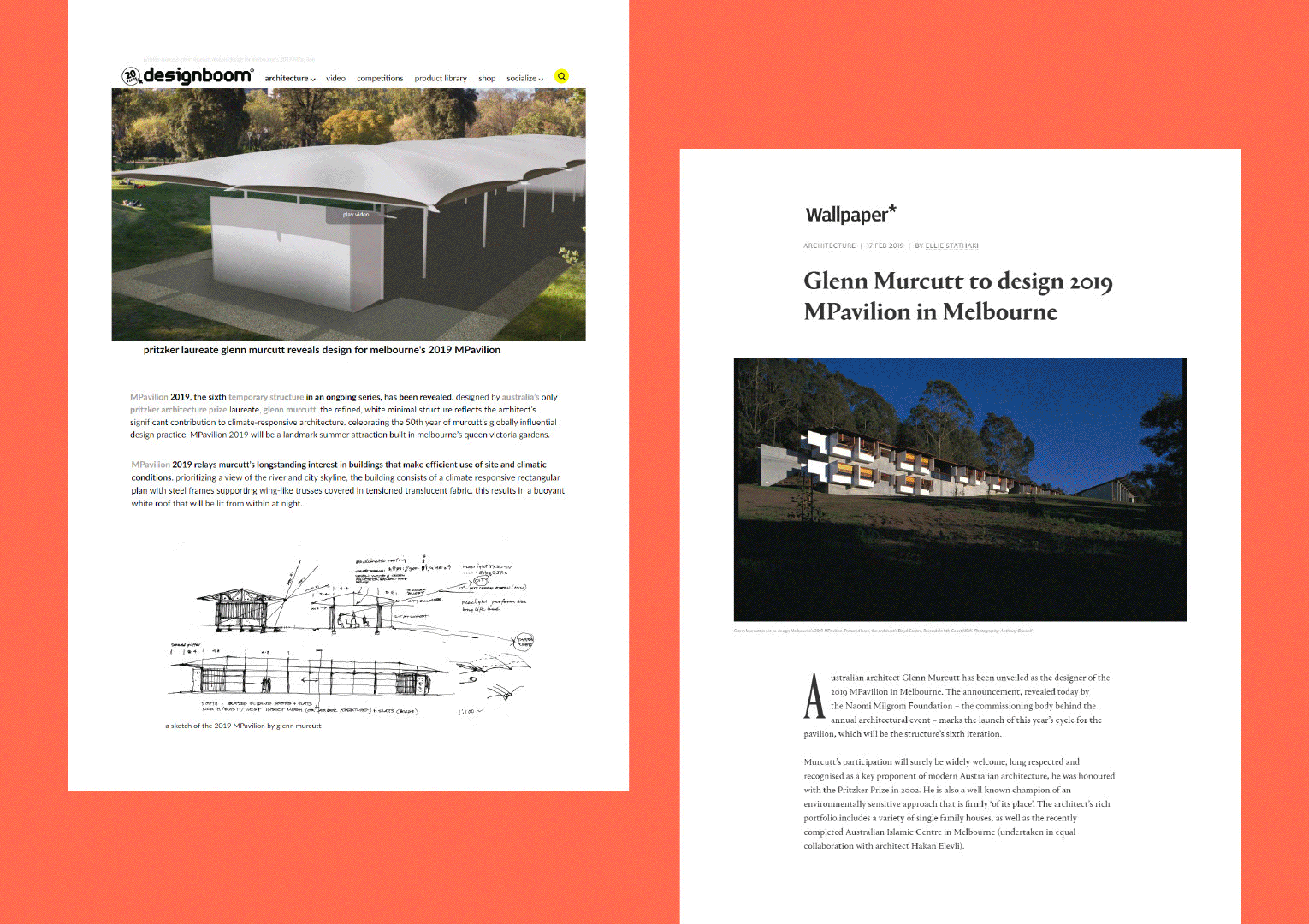 The floating, wing-like design of Glenn Murcutt's MPavilion gained both local and worldwide attention when it opened in Victoria Gardens in November. With more than three months of free events for people of all ages still to come, we look back at some of the incredible coverage that the sixth iteration of MPavilion has received so far.
Read through a selection of press from a suite of media below.
---
Financial Review Life & Leisure
"A wing and some flair: Glenn Murcutt's MPavilion takes flight: It's a long way from the ruins of Yaxchilán in southern Mexico to Melbourne's Queen Victoria Gardens, but Glenn Murcutt's mind took precisely that flight of fancy through space (and time) while designing this year's MPavilion."
"With lightness, shelter and the ephemeral in mind, Australian architect Glenn Murcutt has designed the newly opened 2019 MPavilion in Melbourne's Victoria Gardens as a climate-conscious lantern."
"A slender, translucent roof overhangs this year's MPavilion, which Australian architect Glenn Murcutt has installed in Melbourne's Queen Victoria Gardens. This year's MPavilion is described as a "sleek and adaptable" shelter that rests lightly on the landscape."
"Commissioned by the Naomi Milgrom Foundation, MPavilion 2019 relays [Glenn] Murcutt's longstanding interest in linear buildings that make efficient use of researched site and climatic conditions. Prioritizing a view of the Yarra River and city skyline with weather-effective design elements, the scheme comprises a rectangular plan and round steel columns supporting wing-like trusses wrapped in a translucent tensile membrane, shaping a buoyant white roof that will be lit from within at night."
"Glenn Murcutt on his MPavilion debut, great design and Kath and Kim: Recalling a lunch in the Mexican jungle as the allegory attaching to his scheme for this year's iteration of the pavilion, Murcutt speaks with a brio that belies his 83 years."
"The rational and poetic: Australia's only Pritzker Prize laureate Glenn Murcutt has completed his first public building in central Melbourne, the 2019 MPavilion, with a design that meditates on the relationship between the pavilion, its site and the city that towers above and around it."
"Internationally influential for his environmentally responsible designs with a distinctive Australian character, Murcutt's MPavilion heralds a milestone in the architect's fifty-year career as his first civic city design."
"On the design of the pavilion, Murcutt says, 'I thought how the building could become an object in itself, set within the landscape. So the park flows through the building, and the building hardly interrupts the park. The park and the landscape moves through it'."
"The Pritzker Prize-winner designed an ethereal structure to sit in the lush Queen Victoria Gardens, where it will be the hub for a series of events. The pavilion itself is understated—thin white columns support a roof that's been covered with a stretched translucent material meant to evoke a plane's wing."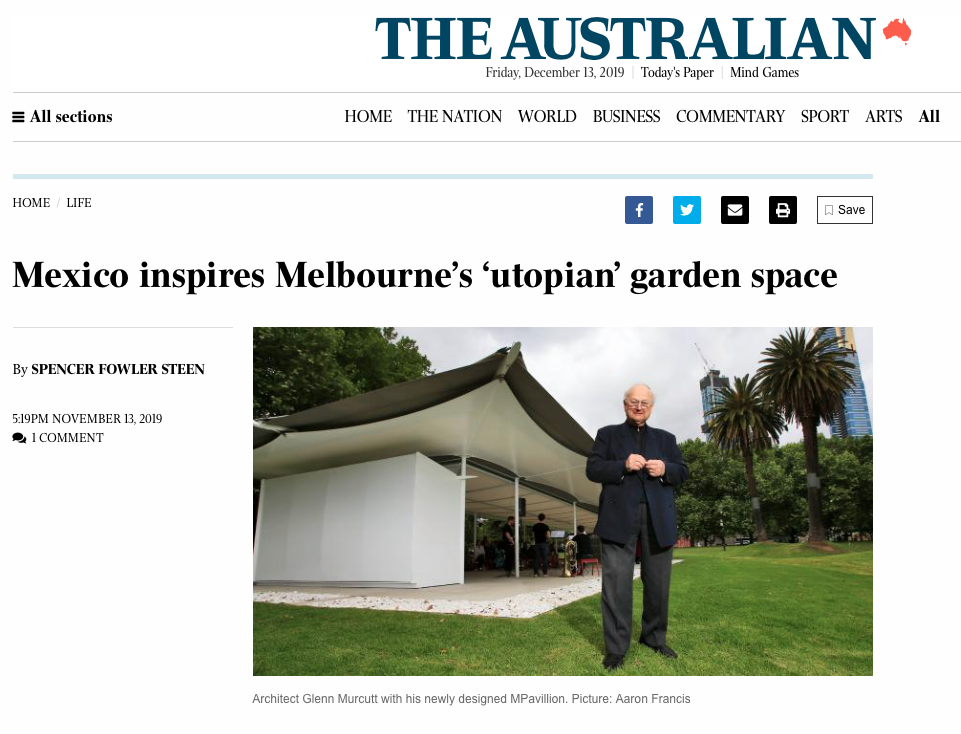 See more media coverage from across the globe for MPavilion 2019:
Art Tribune | Le Quotidian de l'Art | Metalocus | Architectural Record | ArchDaily | The Design Files | Architectura Viva | Archinect | World Architects
---
MPavilion is an initiative of the Naomi Milgrom Foundation in partnership with City of Melbourne, State Government of Victoria through Creative Victoria, and ANZ. MPavilion 2019 will open in the Queen Victoria Gardens, Southbank Arts Precinct on 12 November 2019.