The build begins! We've broken ground on MPavilion 2018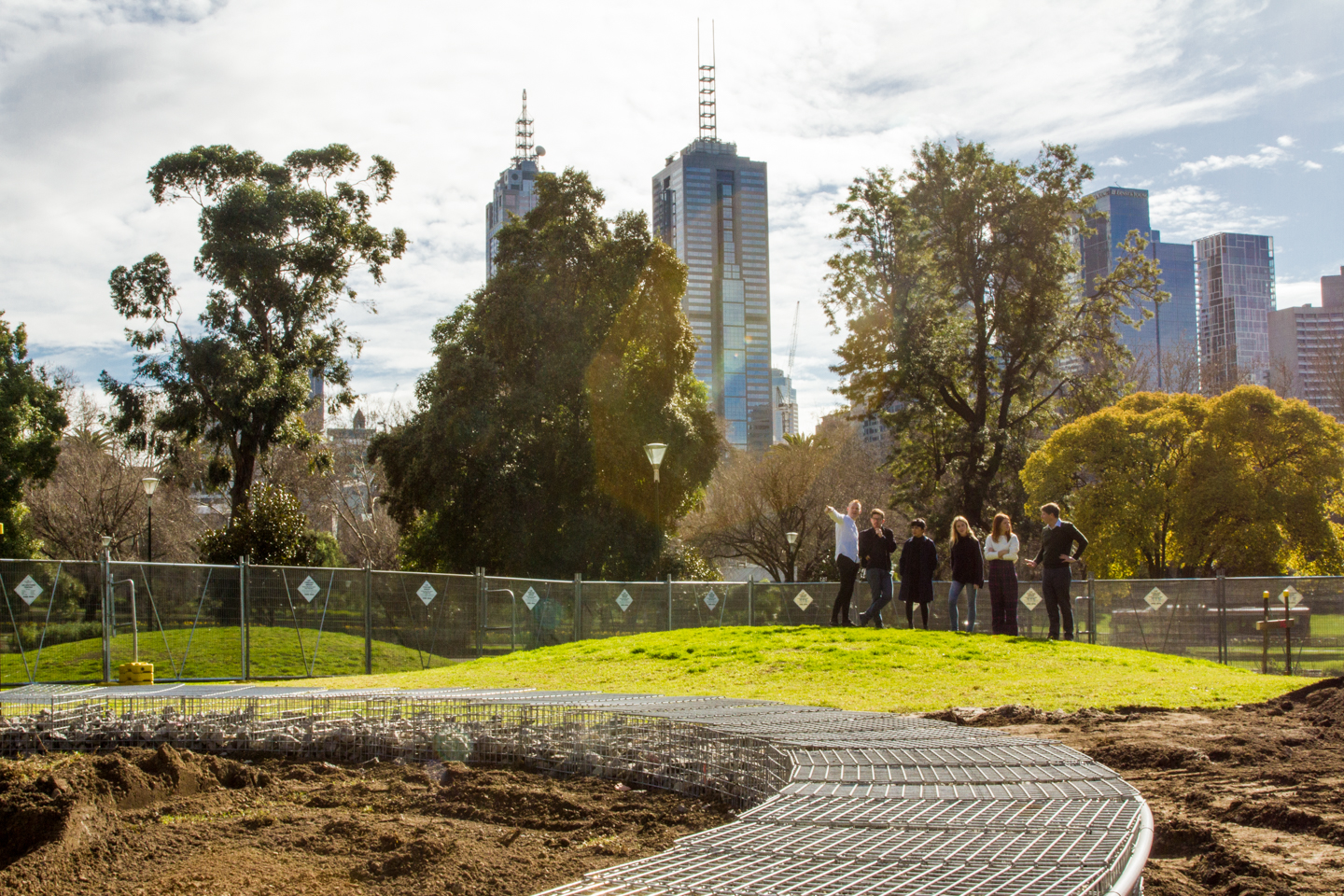 Each year at this time, as we begin construction of a brand new MPavilion for Australia, the mood in our office shifts as the grand vision of our renowned architect comes to life, a pavilion that will host an ambitious and exciting four-month program of events. This year we're incredibly excited as construction of MPavilion 2018, designed by Barcelona-based architect Carme Pinós of Estudio Carme Pinós, gets underway in the Queen Victoria Gardens, in the heart of Melbourne.
Our team visited the site with shovels in hand (yes, we are that eager) to view the fast progress of our award-winning build partners at Kane Constructions and ACE Contractors. Our digital producer, Alan Weedon, took some snaps.
Carme was in Melbourne to speak at the second annual Living Cities Forum in July, also taking time to meet with Kane Constructions and visit ACE Contractors' office in Nunawading to consult on the construction of the MPavilion's seating. The first signs of the tiered seats are now evident onsite.
MPavilion 2018 will open to the public on Tuesday 9 October—we'll be announcing our exciting spring-summer program of lively talks and panels, multidisciplinary performances, installations and kid-friendly experiences soon. Join us on Facebook, Instagram and Twitter, and sign up to our newsletter, to keep up to date with news about the build and our program as it comes to hand.
Don't forget, you can visit all four previous MPavilions around the city. MPavilion 2017, designed by Netherlands-based OMA / Rem Koolhaas & David Gianotten, can now be visited at Monash University's Clayton campus. MPavilion 2016, designed by India's Bijoy Jain of Studio Mumbai, can be found at Melbourne Zoo. MPavilion 2015, designed by UK-based Amanda Levete of AL_A, is in Docklands Park, and MPavilion 2014, designed by Australia's Sean Godsell, now sits within the grounds of the Hellenic Museum.